Aromatek Odour Neutraliser is the only safe and permanent method we have found to eliminate malodours such as; cigarette smoke, animal smells, damp and stale odours from any enclosed space.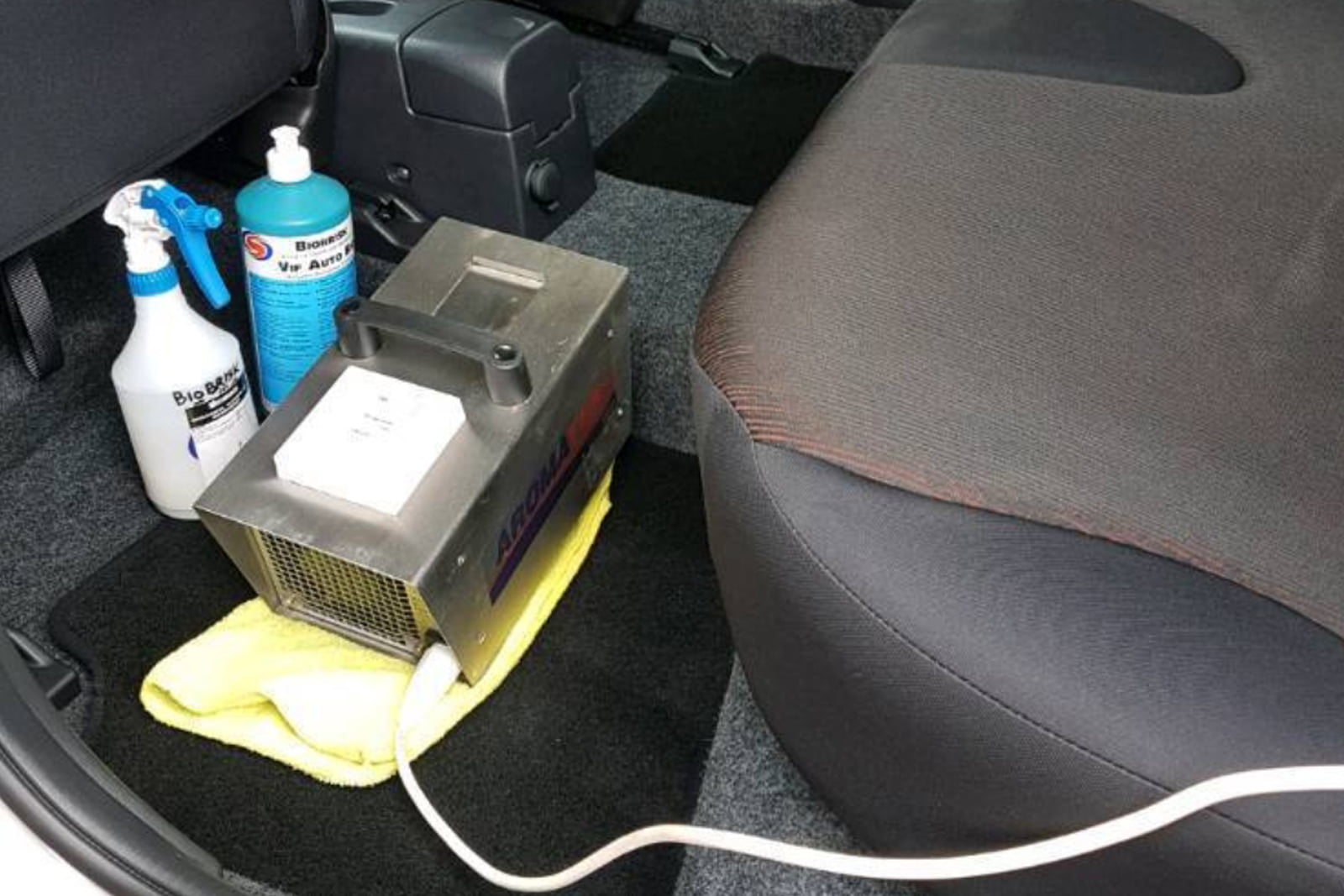 How does it work?
AROMATEK is a permanent solution to in-vehicle odours. The system uses dry vapour produced from 32 chemically enhanced natural oils designed to neutralise and permanently remove malodours such as those produced by tobacco smoke, animals and food.
Unlike conventional air fresheners that just cover up the smell, the dry vapour produced by the AROMATEK system penetrates deep into all porous surfaces inside the vehicle including the air conditioning system to completely remove the source of the malodours.
Once the process is complete the doors can be opened to reveal a natural smelling interior with no traces or residue anywhere to be seen, eliminating the need to re-valet the interior.
What are the alternatives?
OZONE MACHINE – Creates a toxic, bleach-like output that can damage plastics and fabrics, will not work in extreme heat or cold and poses a high risk to the operator.
FOGGING MACHINE – A steam-based fog that can damage electrics as well as lifting glued surfaces such as tax disk holders. Will also mist windows and leave interior damp, car requires re-valeting and drying out.
AEROSOL BOMBS – Basically, incense is burnt or exploded in the car and therefore has an associated fire risk, it will only mask the smell rather than remove it, creates lots of dust and fumes and will therefore require the vehicle to be re-valeted.
IN-CAR AIR FRESHENERS – Air fresheners simply mask the malodours and will often last less than a week before the odour returns.
HOUSEHOLD SPRAYS – These sprays just sit on the surface and therefore won't eliminate the odours from within the fabric, resulting in the odour 'coming back'; these sprays can also stain some interior surfaces.
Why is aromatek superior to the alternatives?
AROMATEK is manufacturer-approved for use on all vehicle marques. Guaranteed fabric and trim safe. Completely and permanently removes the malodour from deep within all porous surfaces. Won't leave behind any residue or moisture. Does not require re-valeting.After extensive testing, we have found none of the alternatives even come close to the results of AROMATEK.
How much does the aromatek service cost?
AROMATEK will at first look more expensive than the alternatives; however, when you take into account the effectiveness of AROMATEK, as well as the cost saved from not having to re-valet your vehicle after using the alternatives, AROMATEK is by far the best value for money.
Price From £55
Length of Treatment 2 hr (depending on the severity of odour). On occasion, with some severe cases your vehicle may need more time and will be charged at £10 hourly after the first 2 hours. We have four fragrance cartridges available – Lemon, Orchard (fruity), Vanilla & Leather. Please select the fragrance when booking.
For cars, treatments should usually be booked alongside an interior valet. A £5 discount will apply to AROMATEK treatments when booked in combination with another valet.